Description
Enjoy theater-quality popcorn that you can customize to everyone's taste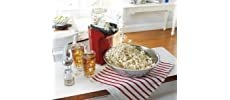 Make a favorite movie night treat in just minutes. The Hot Air Popcorn Popper is easy to use – add the kernels with the built in measuring cup, plug it in and let the fun begin. Everyone can have their own bowl of popcorn, as this popper makes enough cups per batch. With an air popper, you can customize the flavor by adjusting the seasonings to your liking or have it plain for a low-calorie snack.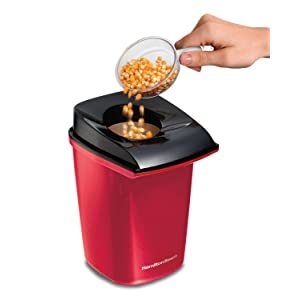 Ease of use
Make preparing this snack so easy that it will become routine during family movie night. Measure the perfect amount for a full batch by using the included measuring cup. This cup does double duty as it also holds butter. Add your desired amount of softened butter, place the cup in the holder on the popper chute and butter will be melted and ready for your popcorn. As the popcorn pops, hot air melts the butter and you can pour it on the freshly popped kernels.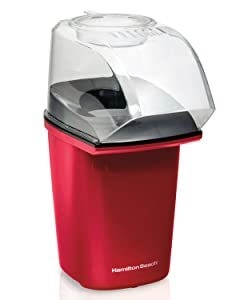 Healthy snack in minutes
Hot and delicious popcorn is ready in just minutes. Measure with the included cup, pour the kernels into the popping chamber, replace the popping chute and plug it in. When the popping slows down to 3 to 5 seconds between pops, unplug and your popcorn is ready to eat.
Easy to clean
With no oil used in popping, cleaning up is a snap. After the unit is completely cooled, you can wash the popping chute and measuring cup in warm soapy water. The outside of the popper can be wiped clean with a damp cloth.
Personalize to your taste
Popcorn kernels cost pennies per batch and everyone likes it. Save money versus buying microwave popcorn and have complete control over the ingredients too. Customize your snack just the way you want, healthy or decadent, it's up to you. Add melted butter and salt for traditional tastes or try something different like Parmesan cheese, chili powder or cinnamon sugar. The possibilities are endless.
Key Features
Hot & delicious popcorn in just minutes.
Pops up to 18 cups per batch.
Pops into your bowl for easy serving & cleanup.
Uses hot air instead of oil.
Butter melting cup doubles as a measuring cup