Description
Description
Compatible with All Brands of Laptop!!
Catch up on your emails & social media events in comfort on your Tablet or Laptop with the stylish Modern & Adjustable Portable Stand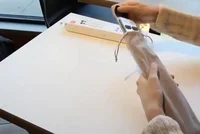 Compatibility: The laptop stand is compatible with all laptops from 10-15.6 inches, such as Macbook, ThinkPad, Surface, Chromebook, iPad Pro, Sony, Dell, Surface, Google Pixelbook, etc.
Lightweight and Portable: Creative portable foldable design, laptop stand can be folded to 9.4 * 1.75 inches, and a portable storage bag, easy to carry and use at home, office or other places.
6 Kinds of Adjustable Heights: 6 kinds of adjustable heights of laptop and tablet stand can be adjusted according to your actual needs. The ergonomic design makes viewing and typing easier and reduces pain in the neck, shoulders and spine.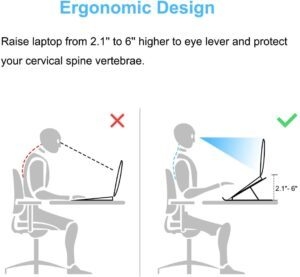 Superb Craftsmanship: Made of anodized aluminum, sandblasted, and brushed, the surface is also equipped with rubber anti-skid pads, which can stabilize the laptop in the proper position and protect your device to the greatest extent without scratching and Slipped.
Note: We are aware of the counterfeit of our products out there. Our G5 upgrade comes with 60 days warranty (Terms & Conditions apply). The G5 upgrade package also comes with the heyfitae™ user manual.
Warranty: 12 Months (Terms and Conditions Applies)